For those interested in an intensive, personalised internship with a documentary film organisation, SPOTFILMS gives a refreshing and motivating experience.
Meet our recent visitors.
Vandana Nair (now Madhusudan)
As a keen media student, Vandana, Indian, made a determined effort to join the 'Art of Documentary Film-making' course run
by FORMEDIA, the not-for-profit arm of SPOTFILMS.
A solitary student, Vandana underwent the entire nine-month training of theory and practicals, including completing a short film, 'SONS OF THE SOIL' in Betacam SP.
Today, Vanadana and her husband, Rohit, are proud parents of their daughter, Narayani.
Vandana's memory:
Foundation for Responsible Media is one of the most powerful platform in media education, globally. After devoting complete three years in an Honors Program in mass communication, I think what I gathered from FORMEDIA in nine months was much beyond than what I could assemble about media in three years. Not only the course content is apt and adequate for the current business needs of global documentary film making, the course offers a huge learning in self-development, commitment for the art form, team spirit, research acumen and much more. I wish all the earnest documentary film making disciples to gain film appreciation under Neelima Mathur and Pramod Mathur, who I consider are among the finest film making coaches India can offer.
Steffi Unrein (now Giaracuni)
Steffi, german, was studying at the ZeLIG School for Documentary, Television and New Media, when she met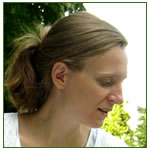 Neelima Mathur at ZeLIG's first ESODOC workshop. That was the beginning of her desire to visit India and SPOTFILMS.
Subsequently, she came to SPOTFILMS for an internship in 2005. During which she was particularly keen on taking one of the SPOTFILMS projects ahead. She worked on developing a trailer for 'LOOK AT MY INDIA'.
Steffi and her husband, Lucio, now live with their daughter, XXXXX, in Switzerland.
Steffi's Memory:
During the summer of 2006, I passed an internship of three months with the filmmakersPramod Mathur and Neelima Mathur. I was warmly welcomed and got the great chance to be involved in all the processes of film making in their company, SPOTFILMS. Even more, I was sent to do my own camera-work for a couple of projects in the field. Through camera lessons with Pramod Mathur, I was able to analyse and improve the efficiency of my work.
Maria Sendlhofer
Maria, Austrian, is a student of multimedia with a keen interest in India, Chinese and Japanese culture. Pursuing
her interests, Maria located SPOTFILMS on the web and subsequently pursued a long dialogue before coming for an internship.
As of end 2008, Maria is interning at SPOTFILMS. Her areas of primary interest are the process of filming (including its philosophical and ethical aspects), interviewing and the logistical issues of shooting in countries like India.
Maria's comment:
Since I started my internship with SPOTFILMS, end of September 2008, I undergo a quite instructive time. The free and sincere working atmosphere provides the opportunity to deal independently with themes and problems, however If required the team always allocates the needed support. So this environment allows to take over responsible tasks and to cope with new challenges. But I not only learn much about technical and professional aspects of film making but also gain many human and cultural experiences. I benefit from this internship in many different respects and I'm glad that I have come to India